1. Baked Red Velvet Cake Donuts
Baked donut can be one of the ways to give a bit consolation of less calories intake as compared to the fried alternatives. This delectable recipe requires the following steps:
(This recipe makes 10 to 12 standard sized donuts)
Ingredients:
2 tbsp unsweetened cocoa powder
1/3 cup granulated sugar + 2 tablespoons
1 large egg, lightly beaten
1/3 cup buttermilk + 1 tablespoon
2 tbsp unsalted butter, melted and cooled
3/4 tsp distilled white vinegar
1/4 tsp red food coloring
Ingredients for Whipped Cream:
1/4 cup whipped cream cheese, at room temperature
4-5 tbsp heavy cream, or more depending on texture
Method:
Preheat oven to 425 degrees F.
Combine flour, cocoa, sugar, salt and baking powder in a large bowl. Gradually mix in egg and buttermilk. Stir in butter
In a small bowl, mix in baking soda and vinegar, and then add vanilla. Add this mixture to donut batter and stir in red food color.
Using a pastry bag or even a spoon fill each donut mould 2/3 of the way.
Bake for 7-8 minutes. Let cool for 5 minutes before removing from the oven.
For whipped cheese cream, in a bowl, whisk cream cheese vigorously until it is smooth. Add sugar, vanilla and cream, 1 tablespoon at a time, whisking constantly. This glaze will be a bit thicker so add cream to acquire your desired consistency.
Dip the donuts in the mixture or glaze them with a spoon and finally cover them with chocolate sprinkles or chocolate shavings.
Innovative Variation: the same steps can be used by following the ginger bread recipe and make your very own ginger bread donuts.
2. Basic Yeast Donuts
This recipe opens so many other options to experiment with. The final donuts can be decorated with any topping of your choice. Even the kids can have their share of decorative ideas.
Ingredients:
2 3/4 cups bread flour, plus more for dusting
1 packet (2 1/4 teaspoons) instant yeast
1 cup whole milk, warmed to 105°F to 115°F
1 1/2 tsp pure vanilla extract
4 tbsp (1/2 stick) unsalted butter, at room temperature
Vegetable oil, for frying
Method:
Using the electric mixer, blend 2 cups of flour, yeast, sugar and salt. While the whisk is still running on medium, add warm milk, vanilla and egg yolks. When all the ingredients blend in, add the remaining butter and flour and continue mixing to have a smooth consistency. The dough will be soft and slightly sticky.
Cover this dough with a plastic wrap and place in a cool shaded place for an hour; still better, refrigerate it for 12 hours.
Roll out the batter on a floured surface. Cut out the donuts with a donut cutter or 3 inch and 1-1/2 inch biscuit cutter. To have smooth cut outs flour the cutter also.
Now comes the second step of donut rising. Place the donuts on a sheet and put them in a warm place, with a plastic wrap. Give them 15 to 30 minutes to rise or when the dough is soft and springy to the fingertip touch.
For frying, put the oil in a heavy based pan. The oil should be at least two inches in the pan. Heat the oil until the temperature is at 360°F. It is crucial to maintain the given temperatures. Use thermometers to be sure. Now add the donuts in oil, with the help of slotted spoon. Fry for 1 to 2 on each side, turning only few times, until the donuts are cooked and golden brown. At this stage it is imperative that you do not over crowd the pan.
Remove from the oil with the help of slotted spoon and drain on paper or wire rack. Let them cool for a while
Serving these donuts in the fun part. You can serve them warm as they are, or after being slightly cooled, dust them with powdered sugar or cocoa powder, ,or glaze them with sugar and cream mixture, or cream cheese mixture or melted chocolate or nutella. Run your imagination wild!
An Interesting Variation:

Following the same instructions you can create jam filled donuts. While cutting the donuts, do not cut out the middle hole. After the frying poke a little hole from one side, with a knife and fill in the jam of your choice or even the vanilla cream.
3. Sour Cream and Onion Donuts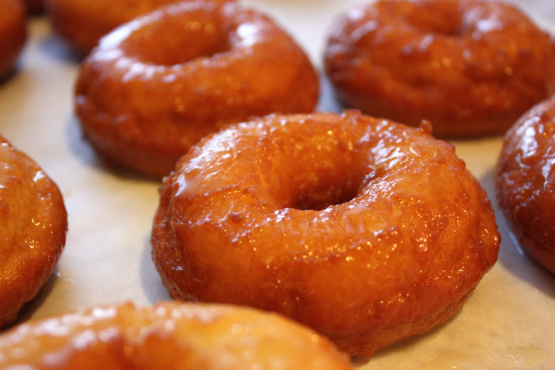 A very delightful and savory twist on the traditionally surprise will take you by a pleasant surprise.
Ingredients:
3/4 cup finely diced sweet onions or green onions
4 1/2 cups sifted all purpose flour (1 pound, 2 ounces)
Confectioners' sugar or Parmesan cheese for garnish
Method
Heat the butter. When it starts bubbling add onions and cook for few minutes until softened. All the while keep the medium flame. Set aside to cool a bit.
Combine together the flour, sugar, baking powder, baking soda and salt in a large bowl. You can use whisk or a spoon to mix it well.
In a separate dry bowl, mix eggs, buttermilk and sour cream. When smooth add in the onions and butter.
Using a spatula, fold in the liquid ingredients into dry ingredients until well combined. the final dough will be sticky and soft but easy to handle. If the mixture is then add more flour but 1 tablespoon at a time.
Heat the oil in a thick based pan to 360° to 370° F. Oil should be 1 to 2 inch deep. Use thermometer to check the temperature.
While the oil is heating, roll out the dough into ¾ inch thickness. Cut out the donuts and transfer them on a floured baking sheet.
When the oil reaches the required temperature, drop in the donuts with the help of a slotted spoon. Once in the oil, the donut will rise to the surface. After it has risen, cook for 20 seconds on each side or until golden brown. Drin the donut on a wire rack and later on paper.
Serve them with a very light dusting of confectioner's sugar or finely grated parmesan cheese.
4. Baked S'more Donuts
S'more and donuts!!! Yes this is also possible and amazingly tantalizing too.
Ingredients:
1/3 cup sweetened cocoa powder
½ cup non fat yogurt (preferably Greek yogurt)
1 cup crushed Graham crackers
For Chocolate Glaze:
1 cup milk chocolate chips
Method
Mix yogurt, egg, vanilla, milk and lemon juice, in a bowl.
Combine together flour, baking soda, baking powder, salt, sugar and nutmeg, in a large bowl.
Add liquid ingredients mixture and butter to dry ingredients, until there is smooth consistency. Put this mixture into piping bag. Squeeze it into greased donut pan until almost full.
Bake at 375°F for almost 10 to 12 minutes or until the donut is cooked. Let them cool completely and cut it into half (like sandwich).
At this stage prepare chocolate glaze. Melt together chocolate chips, butter, milk and vanilla over low heat or over hot water. Stir to have a smooth consistency.
Layer the bottom half of the donut with this glaze evenly. Place the marshmallows over this glaze and roast them lightly with a kitchen torch until they melt.
Top with the other half of donut and pour more chocolate glaze onto the top.
To decorate, sprinkle with graham crackers crumbs or multi colored sprinkles.
5. Green Baked Potato Donuts
Ingredients:
5oz/140g baby/young spinach leaves only
For cinnamon sugar topping :
approx 3tbsp unsalted butter
Method:
Boil or bake the potatoes and let them cool at room temperature.
Blanch the spinach leaves. Allow them to cool and then squeeze out extra water. Finely chop it and add to the peeled potatoes in a bowl.
Preheat the oven to 350 F/175C. At the same time, spray the donut tins and set aside.
Combine together potato, spinach egg, honey, vanilla, yogurt, milk and oil to make it a smooth paste.
Mix all the dry ingredients to potato mixture, until combined.
Fill the piping bag with the mixture and almost fill the donut pan. Bake them for almost 15 minutes.
After letting the donuts cool, glaze them with cinnamon sugar mixture.
6. Basic Donut Recipe
Follow this classic and basic recipe and play around with your final product.
Ingredients:
Method:
Mix all the ingredients. Make smooth dough. Roll it out and cut out the donuts with a cutter. Deep fry them, until golden brown.
Let them cool and now is the time to become innovative. Happy Donut-ing.