Looking for an amazing, homemade chocolate chip cookie recipe that not only WOWs your taste buds but can also be served in a variety of creative ways?
Well, you are at the right place.
Best Homemade chocolate chip cookies recipe
Let's quickly move towards the recipe. It's as basic it can get, yet tastes super-duper amazing. In fact, they are the best chewy chocolate chip cookies ever.
You will need:
2 teaspoons vanilla extract
2 cups semisweet chocolate chips
1 cup chopped walnuts (optional)
Method:
Preheat oven to 350 degrees F (175 degrees C).
Cream together the butter, white sugar, and brown sugar until smooth. Beat in the eggs one at a time, then stir in the vanilla. Dissolve baking soda in hot water. Add to batter along with salt. Stir in flour, chocolate chips, and nuts. Drop by large spoonful onto ungreased pans.
Bake for about 10 minutes in the preheated oven, or until edges are nicely browned. [Source]
Chewy on the inside, crisp on the outside AKA Best chocolate chip cookies, ready in no time!
Now that you are in on our secret, best chocolate chip cookie recipe, let's move towards the creative end of this article.
Top 8 Homemade Chocolate Chip Cookies
Serving these sweet treats – in style!
1. Chocolate Chip Cookie Bars
If the boring old round cookie shape irks you, turn these treats into bars. Plus-point – dunking them in milk, gets even easier.
Instead of baking in small separate portions, spread the batter evenly in a lined, rectangle or square pan, and bake until done.
Once done, take out of the oven and cut evenly in bars, while hot.
---
2. Cookie in a Skillet
Planning a meal for a special date night? This skillet cookie is a perfect way to end any meal. Fresh out of the oven, with a scoop of ice cream atop, will set your partner's mood right, for the night.
Take a large scoop of dough and fill the greased skillet.
Throw in a few chunks of chocolates for an extra treat.
Bake in the oven, until nicely done.
Serve warm, with a scoop of vanilla or butterscotch ice-cream, and a drizzle of chocolate sauce. Because 'enough of chocolate', said no one ever!
---
3. Fried Cookie Balls
Game day and these fried cookie balls go hand in hand. Serve warm with dips – chocolate, caramel and whipped cream. Don't be surprised to see the crowd, cheer for you more than the game.
Take spoonful of cookie dough and roll into balls.
Add to pre-heated oil and fry until golden brown and crisp from the outside.
Add a chunk of chocolate in the center of each ball, for an additional, melt in the mouth chocolatey experience!
---
4. Chocolate-chip Cookie and Ice-cream Cupcakes
This is a perfect summer treat. Fulfills both, the craving for something sweet as well as soothingly cold, all at the same time. Serve at your pool-party next summer, and impress your guests!
Take a spoonful of cookie dough and place at the bottom of a lined or greased cupcake tray.
Once cooled, cover with a scoop of ice-cream, to the top.
Once solid, take out of the tray and serve with a dollop of whipped cream on top.
---
5. Chocolate Chip Cookie Shots
This recipe not only tastes wonderful, but looks downright amazing, too. Take these chocolate cookie shots to your friends 'no-booze' baby shower or devour them all on your own. Either way, you are going to have a good day!
Molding the cookie into a cup may be tricky, but it's not impossible. Here's where you can grab a few tips from.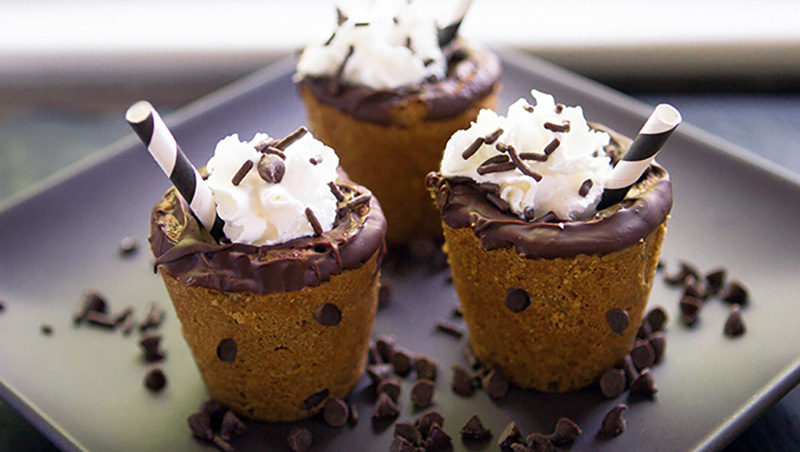 ---
6. Cookie or Cake? How about a Cookie-cake!
Can't decide between a cake or a cookie?
Bake 3 large and thick cookies in an 8 inch round pan, instead of separate spoon-sized portions.
Once done, frost the top of one cookie with chocolate ganache. Cover with another cookie and repeat the process of spreading ganache and covering with another cookie, until the last layer.
Decorate with whipped cream and candles!
---
7. Chocolate Chip Cookie s'mores, Anyone?
A chilly night on camp or a cozy night watching your fav series, under the covers at home, S'mores are a must. Especially this upgraded, homemade chocolate chip cookie version!
Bake cookies, as you normally would.
place your fav chocolate or chocolate chip buttons on the flip side of one cookie, place a marshmallow over it and cover with another chocolate chip cookie.
Put under the grill or in the oven for 5 minutes, or until the chocolate has melted and the marshmallow has toasted, to perfection.
Serve warm and enjoy the gooeyness of marshmallows, richness of melted chocolate and the crispiness of chocolate chip cookies.
That's what you call, party in the mouth!
---
8. 5-Minute Chocolate Chip Cookie… in a MUG!
This homemade chocolate chip cookie recipe is for when this post has made you crave a cookie SO bad, but you have neither the energy nor the time to make one from scratch!
Yup, we have got you covered!!
All you need is 5 minutes and a MUG! Ooh, and a microwave oven, too!
All thanks to, Melissa from No. 2 pencil.
Hope we have given you enough excuses to devour another batch of chocolate chip cookies, all on your own!
Well, because a balanced diet is a cookie in each hand!