If your special day is getting near and you are looking for wedding hairstyles for long hair down then this is the article for you!
There are many things a bride wants, to look beautiful on her wedding day, from her dress to her hairstyle.
You would see most of the brides obsessing over a certain actress's hair or a model's hair in a magazine because who wouldn't want to look less than any celeb on their special day!
If you have long hair then there are many ways to wear your hair down for your wedding. You could, of course, do it up but would it not look better with a beautiful hairstyle that highlights your long locks?
And if you do want long hair down for your wedding but actually have short hair, then you do not need to worry because there are, these magical things called "extensions".
They would make your hair look longer for the wedding without the fuss of actually growing out your hair.
The Prettiest Wedding Hairstyles for Long Hair Down
Here we are going to list some gorgeous ideas for hairstyles that you could do including wedding hairstyles half up half down and curly wedding hairstyles. Once you go through them, you would definitely pick out your wedding hairstyle with whatever that suits your face.
1. Red Carpet Waves
With these luscious waves, you would look like an actual Old Hollywood starlet. This would look great if you are having a grand ballroom wedding.
2. Soft and Natural
If you do want a hairstyle that requires barely any maintenance and lets you touch your hair without the worry of disturbing your hairdo, this style is perfect for you. Embrace your natural waves and let the locks flow loose, or get a blowout which would allow you to have fun and move however you want!
3. Sleek Curls
If you have long hair, having them in defined curls would definitely look amazing. Having tight bouncy curls will make you look like a princess on your wedding day. This hairstyle does require some upkeeps as the curls tend to loosen up as the day goes on but if that is no issue to you, then go ahead and put those rollers on!
4. Beachy Waves
If you are planning on having your wedding near or on the beach then beachy waves would look wonderful. You could use a salt spray or a curling iron to achieve this tousled look.
5. Side-Swept Curls
For a more contemporary look, you could go on the route of having a deep side part and secure all your curls over one shoulder with a fancy barrette or an heirloom clip.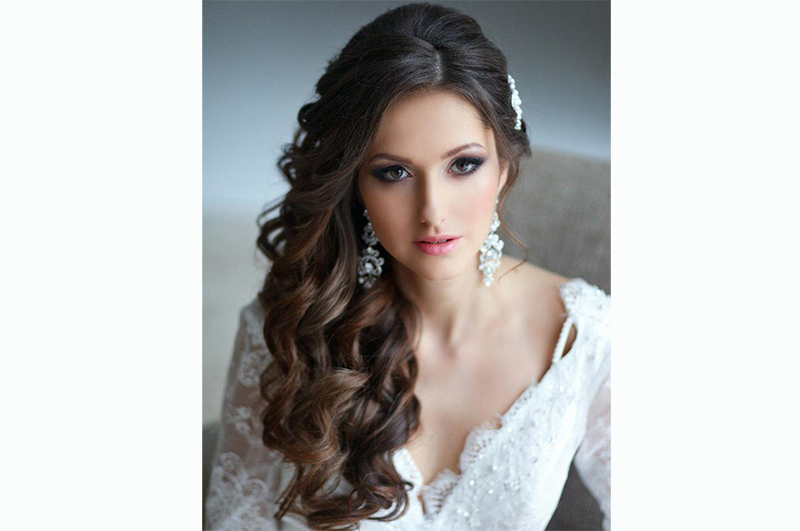 6. Flower Crowns
If you want a boho-chic look, you could get a pretty flower crown. They go along with some loose, tousled waves and can also be a substitute for a heavy veil. You could either get a big and bold arrangement or just have one with pretty tiny flowers.
7. Tiara
If you want to get fancier look than a flower crown, you could wear a tiara to be an actual princess on your wedding. This would be wonderful if you want a half up and half down hairstyle as it gives you the illusion of an updo from the front while in the back you can have your hair flowing in loose or tight curls.
8. Dimensional Waves
This is one of the best wedding hairstyles for long hair down. If you have gotten highlights or a unique hair dye, then this would look exceptionally good on your hair as it gives your hair 3-D effect. Your hair would not look flat or one dimensional with these waves.
9. Bouffant
If you want your hair to look luscious on your wedding day, then you should go with this hairstyle. A lot of wedding hairstyles include bouffant as it gives you a fancy look which is perfect for your wedding day. You could get accessories that can help your hair look thick and sleek. This is one of the prettiest wedding hairstyles for long hair half up.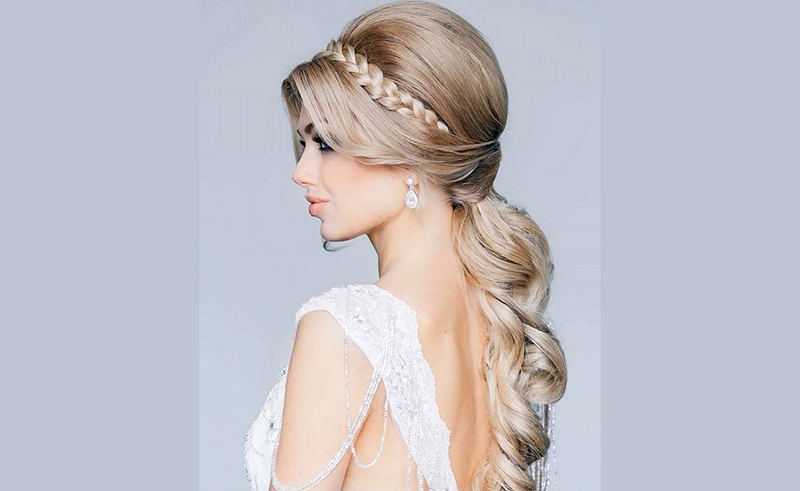 10. Braids and Twists
One of the biggest trends in wedding hairstyles this year is the inclusion of braids and twists. Adding some small or big braids and twists to your hair will make it look chic especially if you will have curls. The intricate look adds dimensions to your hair and makes it look like the elaborate hairstyle of a Grecian goddess.
11. Ponytail Style
If you want a detailed wedding hairstyle for long hair down then you could have a low ponytail and add some intricate twists and bows to make it look pretty. This is a great half up hairstyle for long hair!
There are so much more ways you could style your hair on your wedding day!
You can create your own hairdos by experimenting with waves, braids, colours, or different accessories. Many of the above-mentioned hairstyles could also be wedding hairstyles for short hair as they mostly include curls or twists that you can achieve with shorter hair too.
One of the advantages is that you would get great down wedding hairstyles photos as well. If you get a dye with some highlights or a distinctive colour then some of these wedding hairstyles for long hair down will really look beautiful.
For a bride, the most important thing is to have the perfect wedding dress and hairstyle. To achieve that you can look at the list above and get some ideas for your own wedding day or either get a professional to recreate them or learn how to do them by yourselves. You could find many tutorials online that will teach you how to make some of these hairstyles. The point is to have your hair look magical on your wedding day so that you can really look special!
Must Read How to keep hair healthy naturally