Ever felt like magically disappearing into movie screen or pages of story book to explore the astounding beauty of a modern fairytale village? It might seem impossible to you, but it actually isn't.
'You don't need Magic to disappear, all you need is a destination'
Whether kid or adult, who doesn't love the breathtaking views of fairytale castles and heavenly sceneries? Since, the beauty of our Globe is not limited, from the nature's miracles to the man-made heavens, Earth has so much to offer beyond our thoughts and imagination. If you are a dreamy traveler or keep interest in historic monuments, these must visit fairytale villages are more than perfect for either honey moon, family trip or even for solo travelling.
Let us move our magic wand, and take you to these unbelievably ravishing modern fairytale towns to have look into your flight of fancy in real life.
Abracadabra… here you go.
Modern Fairytale Village Names
1. Colmar, France
This well-preserved Alsatian village, is not only close to nature but the rainbow colored houses, quiet flowery canals, side walk cafes seems like a Disney princess town. It is known as 'the most beautiful town in Europe'. The Belle's town from the movie 'Beauty & the Beast' was also inspired by Colmar. The little Venice, Colmar has a quite a variety of architectural styles with a bit of Germany, France and Italy. Visitors ride the bright green "Le Petit Train" that move through the entire town or take gondola that float in the canals to get a fascinating view of Colmar.
2. Sintra, Portugal
Publicly recognized as the 'Capital of Romanticism', the royal castles and the romantic constructions displays Sintra as one dreamlike place to visit. The artistic and unique architecture of Sintra National Palace, the Quinta da Regaleira aquarium which is classified as a World Heritage Site by UNESCO and the castle of Pena National Palace that stands on the top of a hill, reminds one of fairytale house designs, it is listed as one the seven wonders of Portugal. Sintra is mini town but has massive to offer to its visitors.
3. Hoi An, Vietnam
Hoi An, widely known as the 'Venice of Vietnam' is a well preserved historic town. Warm climate, delightful atmosphere, lovely white sandy beaches and friendly people pulls tourists towards it from around the globe. This most beautiful village of Vietnam is a living Museum with a blend of East and West culture. It is also listed as a UNESCO World Heritage Site. On the festivals of Full Moon on the 14th of every lunar month, the Mid-Autumn Festival on the 14th of the August lunar month, and the lantern festival on the 15th of every lunar month, Hoi An is fully embellished with lights and Lanterns which makes it out of the ordinary town.
4. Bibury, UK
The noteworthy natural beauty of Bibury nominates it as the most beautiful village of England. The Arlington row Cotswold stone built cottages from 17th century bear resemblance to fairytale houses. With it breathtaking sceneries it attracts thousands of tourists every year.
5. Oia, Greece
The carved out of the cliffs white heaven, Oia is a man-made masterpiece. It is quite famous for its sunset in the world. The Oia walkway purifies one's mind with its terrific landscape views. At night it looks calm, quiet and mesmerizing.  Moreover, The Amoudi Bay which is located 300 steps below Oia is much remarkable for swimming and its pure beauty.
6. Hallstatt, Austria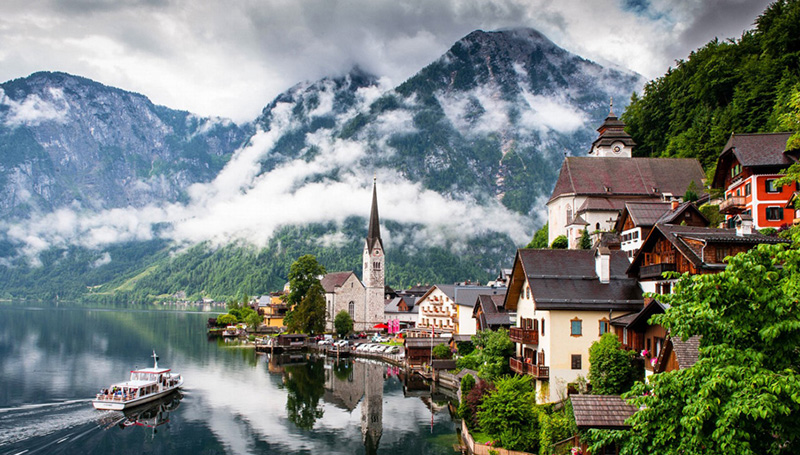 The lush mountains and the heavenly houses that makes reflections onto the clear waters of Hallstatt lake gives it unbelievably spectacular looks. Take a ferry and ride across the lake to discover the enchanting scenes. The ancient 300 years old Hallstatt Salt Mine gives a perfect idea of great history of villagers mining. In 2011, a Chinese mining company got inspiration from it and created its Replica.
7. Cinque Terre, Italy
The centuries old Cinque Terre consists of 5 magnificent towns built on steep hills, with harbors filled with fishing boats, colorful houses, extraordinary cliff sides' feels like heaven on the earth. Monterosso al Mare, Vernazza, Manarola, Corniglia, and Riomaggiore are the 5 towns of Cinque Terre. Vernazza is however the most picturesque of all. It seems like modern fairytales are inspired of this beauty.
8. Reine, Norway
The most pretty fishing village of Norway is as stunning as fantasy. It is one never to be forgotten tourist site with stunning cottages, snowcapped mountains, and heart stirring sceneries that leaves eyes stunned.
9. Gruyères, Switzerland
The wide, stone-paved streets with dark spectacular mountains in background is what made it known as the most beautiful village in western Switzerland as voted by public. It awe-inspiring beauty engages millions of tourist annually. The 13th century constructed Gruyères Castle looks like a princess place of residence with stunning gardens surrounding it.
10. Rothenburg, Germany
Travel over this stunning medieval formation of Rothenburj, and have a picture perfect at Plönlein which is the most photographed place of Rothenburg. The modern fairytale house designs of Rothenberg feel like magic is in the air. Visitors may find out the cultural heritage in museums, or celebrate the local historic festivals, It is overall one best place for an art and history lover.
11. Cochem, Germany
Visiting Cochem is like Escaping into the dreamland. The most appealing Reichsburg Castle acknowledged as 'sleeping beauty castle' and the Burg Eltz Cochem castle nestled in the hills makes Cochem look like dazzling land of fairies.
12. Albarracín, Spain
The well preserved medieval houses from centuries, which made Albarracín National Monument since 1961 and therefore also received an international award for its preservation quality. At the top of the village has an old castle which looks like a home to fairies. It is one main tourist attraction for its historic significance, from there the Universale Mountains and the National Park extra ordinary view can be seen.
13. Goreme, Turkey
Göreme town is located in the Cappadocia region of Turkey. The phenomenal Uçhisar Castle on the south west gives stunning views from its peak. While on the north Goreme has Paşabağ Valley which is quite familiar for its mushroom shaped 'fairy chimneys'. These magical chimneys are the miracle of nature when million of years ago volcanic eruptions rained across this valley, it created these rare monuments. Later in Roman period it was turned into homes and churches by Christians.
14. Bled, Slovenia
On the shore of Lake Bled, lives a small Alpine town of Bled, the clear blue waters surrounding this island feels like a land from out of the world. Bled lake was formed at the end of ice age, it is one a popular tourist destination. The red and white Bled castle at the very top of cliff is enclosed by Romanesque wall with parapets, ramparts and towers. It also has a church which is famous for a romantic weddings, in winter lake freezes and people skate to church.
15. Mont Saint-Michel, France
Normandy, France owns a beautiful Mont Saint-Michel Island, because of the captivating castles and mesmerizing monuments it is listed as one the wonders of the Western World. It might look familiar to you because of The Disney movie Tangled was inspired of the castle of Mont Saint-Michel. It is the palace where Rapunzel was seized from her parents.