Out of hundreds of medicines, bazillions of high-end products, all your skin demands is castor oil for acne treatment.
Once I read somewhere 'If you cannot eat it, don't put it on your skin'. It made much sense to me. I don't break out occasionally but… Ugh! Routinely. My acne loves me so much that it has become a part of life now. From pustules to cystic I have been through a lot. Pustules usually took little time to heal away. Cystic acne however was always stubborn and took several weeks to heal. Acne hurts emotionally, it became an embracement for me and even pricey products won't help.
After the years of research and wasting tons of money. I started to look towards natural products. This is how my hunt for home remedies started. Since then my sink has turned into kitchen cabinet. I never knew that I would actually apply oil on my oily skin. But, I decided to give it a try and results were certainly worth it!
Keep reading to have a full guide on how I use castor oil for acne treatment.
Oil for Acne Prone Skin
If your skin is prone to acne then it might be because of oily skin. It is one misconception that oily skin faces should stay away from oils. Oils are actually very promising for oily or acne prone skin. If you don't moisturize your skin it becomes dry. If your skin becomes dry, it produces even more oils.
Therefore, to control the oil you need to apply oil. By doing so your skin will produce less oils.
Finding the 'Perfect' moisturizer in market can be a hard nut to crack. Even the high-end moisturizer might not suit your skin.
Not everybody can understand the ingredients in a product. You may be allergic to any of the ingredient which may further irritate the skin. Plus any kind of chemical on skin is a Big NO!
So, the best thing is to use your cheap chemical free Natural oils. Natural oils kills bacteria on the skin, it soothes skin, and helps you to control break outs.
Castor Oil for Acne Treatment
If you suffer from acne Castor oil is one heck of a moisturizer. It is non-comedogenic hence does not clog pores. It not only heals acne fast but it is also easy on the pocket book. This multi-action product cleanses skin deeply by removing bacteria, dirt and oil.
It's hydrating and moisturizing properties are also very crucial for a healthy looking skin. Moreover, castor oil for acne scars and spots is also super effective.
Considering that it is natural, it is fully packed with minerals, vitamin E, and anti–oxidants which are essentials for glowing skin.
Not only that but it is a rich source of undercylenic acid, triglyceride fatty acids, ricinoleic acid, and Omega 9 fatty acid which kills bacteria, reduces face swelling and cleanses pores.
How to use Castor Oil for Acne
Because of its numberless benefits it is essential to use castor oil for skin care. There are several ways by which you may use castor oil acne treatment and castor oil acne spot treatment in your daily skin care routine.
I am mentioning below two different methods. Adopt whatever is convenient for you.
But wait!
First you have to make sure that you use a carrier oil with castor oil. It is said that castor should not be used alone. You need to mix it with olive oil, jojoba oil, avocado or almond oil as a carrier oil. The ratio should be something like this,
50% castor oil, 50% carrier oil for oily skin.
30% castor oil, 70% carrier oil for balanced skin.
25% castor oil, 75% carrier oil for dry skin.
1. Castor Oil and Steaming Method
Castor oil works perfect when pores are open. The best way to open up your pores is by steam.
You may use a steamer or boil water in a bowl.
Then drape a towel over your head and take steam for 5-10 minutes.
Take a towel, soak it in warm water and wring out the excess water.
Take 2 teaspoons of castor and carrier oil blend, apply it either on your face or towel.
Now massage your skin with towel for 1-2 minutes.
Rinse with cold water to close the pores.
Repeat this step twice or thrice a week.
2. Castor Oil Cleansing Method
It is irritating to see that Markets are always filled with dozens of useless face washes. These stuff promises to cure your acne but it is totally worthless. Castor oil for face wash however definitely does clears skin.
Take one tea spoon of castor and carrier oil blend.
Warm up it up by rubbing it in your palm.
Make sure your face is dry.
Now apply the mixture on your skin.
Start massaging and you will notice that with the warmth of your fingers the thick oil will start turning into thin liquid.
Keep massaging for a couple of minutes.
Now wet your hand with warm water and massage again. After some time the oil will turn into saturated milky white mixture.
Add more warm water and repeat the massaging.
After a good 10-15 minute massage, use warm water to cleanse your skin. Make sure no oil is left on skin.
Pat your skin dry and enjoy much softer and smoother face.
Use any of the above-mentioned ways and you will start seeing results. You may also leave a few drops of castor oil on face overnight for an extra moisturized skin. Your skin might take a week or two to adjust to this routine. But once your skin accepts it.
Congratulations then you have started your journey towards a clear healthier skin!
Here is the guide about How To Get Rid Of Stretch Marks
Castor Oil for Acne Before and After
To explain you that how much fruitful castor oil skin care can be for your skin, I have gathered some before and after pictures. Have a look!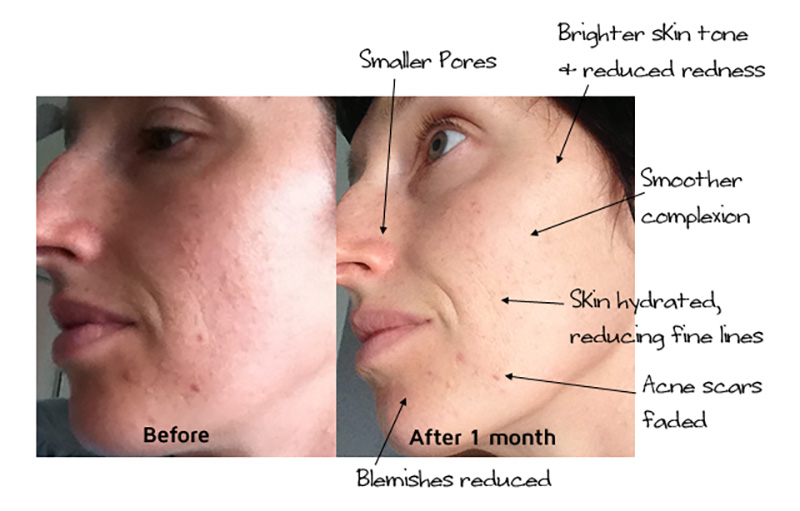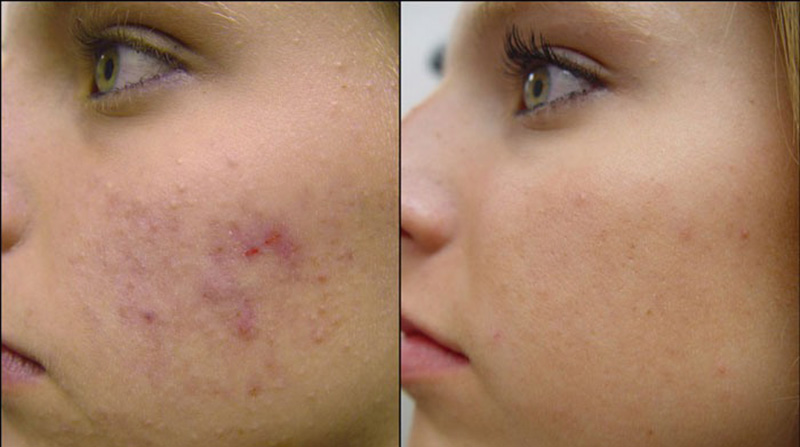 Castor Oil for Skin Whitening
Well since I have explained way too much benefits of Castor oil for pimples. Let's talk a bit about skin whitening as well. Whether you have stretch marks or pigmentation, castor oil works the best even for skin lightening and whitening.
I have mentioned before also that how much worthy it is for scars. You can use a mixture of castor oil and lemon or baking soda. Just leave this mask for 15-20 minutes on your face. Repeat it routinely to see the results.
Castor oil has heap of benefits, for your skin, hair, nails, eyebrows, eyelashes, and lips. Make castor your best friend.
Keeping a pure cold compressed Castor oil always in hand is a must to look pretty!
Must is how to get rid of blackheads on face.