We all must have heard tales of ancient civilizations living in tunnels or dark caves. Well! that was all that happened in the past BUT even today, such secretive places exist in the world.  Of course not in the form of caves but many areas of the world out there are considered secret underground cities consisting of hidden passages and ancient underground tunnels.
Carved by history, these largest underground cities have existed for years, and they are the charming reflections of life that lives above them. These secret cities are not on the world map and also many think that these underground cities have become obsolete. However, on the contrary, these hidden underground cities are fully functional like urban cities and are hub for illegal activities about which a few people know of!
To break down your curiosity, we have uncovered the mystery and highlighted the top 10 underground cities that are fully functional at present!
1. Dixia Cheng, Beijing, China
This city was built in 1970's to serve as a shelter during bombings and nuclear explosions. This hidden underground city is located underneath Beijing and has approximately 90 entrances; it is a long network of tunnels and is referred to as 'Underground Great Wall'. It consists of hotels, schools, clinics for citizens to seek refuge. Also, it has been claimed that it can hold half of China's population. This city became open to the public in 2000 and serves as a major tourist attraction in China.
2. Setenil de las Bodegas, Spain
This secret underground city is in Southern Spain under a rocky mountainous surface and has a carved shape. The Rio Trejo River flows by its side. Nearly 3,000 people reside there. Despite its small size, this city has a lot to offer apart from natural diversity including olive oil, honey, and Andalusian wine. So if you are nature lover, this underground city should be on top of the list of places you intend to visit. This underground city has also served the Roman Empire as a shelter for many years.
3. Shanghai Tunnels, Portland
The Shanghai Tunnels are also referred to as 'Forbidden City' located in one of the largest cities of America. It is located in Chinatown and is being used for as passages for transportation of goods, for linking Chinatown with the central downtown area. But many say that it had been used as a secret place for illicit activities such as prostitution and kidnapping of people for forced labor on ships. But today, one can easily take a safe tour of this underground city and explore its intricate network of tunnels.
4. Wieliczka Salt Mine, Poland
This underground salt mine has been producing salt for over 700 years and is one of the largest salt mines in the world referred as 'Royal Salt Mine'. During the world war, this salt mine was used by the Germans for building munitions. This mine was transformed from dark caves into a beautiful tourist spot as it now consists of chapels, galleries, and statutes carved from salt. It has nine levels of tunnels with only top 3 open to pubic access. It pulls the tourists from all around the world.
5. Coober Pedy, Australia
This underground town is located in Southern Australia and is home to nearly 1,600 people. It is also known as 'Opal City' because it produces world's largest amount of opal. This underground city consists of mines, graveyards, shops and small cave-like homes called 'dugouts' built underground to survive from the scorching heat of sun.
6. Cappadocia, Turkey
The area of Cappadocia in Turkey consists of 36 underground cities, but Derinkuyu is the deepest of them all. It includes schools, churches and storage rooms. Over a 1000 people live in this underground city. This city was discovered in 1963 and is open for tourists.
7. Burlington, U.K
This city had been built as a warhead quarter for the British government officials which is located underground in Corsham. It consists of tunnels and is large enough to accommodate nearly 4,000 officials. It has railway station, hospitals, and pubs. It was functional till 1991 during the time the cold war had ended.
It includes a BBC broadcasting station for the presidential address of the government and second largest telephone exchange in U.K. This underground city had not been disclosed to public till 1981 but in 1991, this underground city got sold to an unknown authority.
8. RESO NETWORK, CANADA
The RESO network is an underground city in Canada, located in Montreal. It has shops, galleries, cinemas restaurants, apartments, and metro stations which run underneath the streets of the central city.
It serves as a shopping center for tourists and local people; it also provides them a cozy atmosphere from the cold. It has 120 exits and is linked with the downtown area. It is also known as 'The Indoor City.'
9. Pilsen, Czech Republic
The city of Pilsen consists of 'Pilsen Historical Underground' which serves as a unique place of attraction for tourists. There are wells, ice cellars, water towers and long corridors in this location that had been used as an escape route and for storage of food in ancient times.
It is a place worth visiting. So! Get hold of a tour guide and visit this site whenever you get the opportunity to explore the world.
10. Underground Atlanta, U.S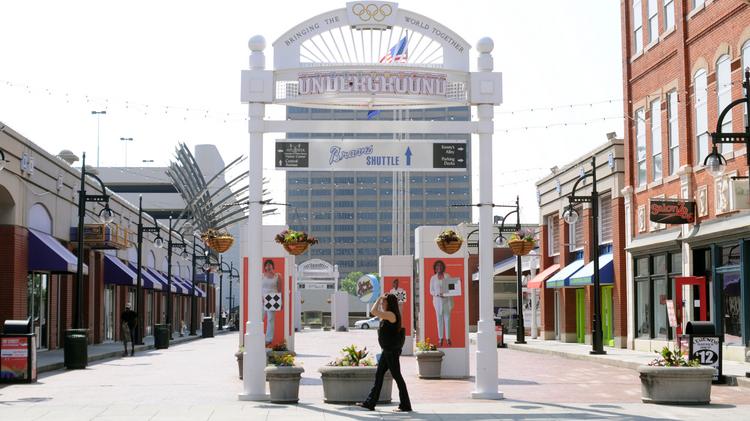 This city was constructed in 1969 and is commonly known as 'City beneath the Streets.' It has shopping, dining and entertainment area in downtown Atlanta. This underground city is known for its famous scavenger hunt, where clues were given to the visitors to discover various historical sites.