For anyone, getting married is a pretty big deal, and most people think of unique ways to get married, in order to make it special. In this era,many young couples want their wedding to be a modern and one-of-a-kind event. Traditional weddings are not so trendy anymore, so this article will give you some ideas to make your wedding a little bit more contemporary and unique!
Coolest Places of Getting Married in a Unique Way
If you are engaged and planning your wedding, then you know how important choosing a venue is! One of the things that make a wedding is venue. If you are going with a particular theme then selecting a location that goes along with that theme is critical. Choosinga place also helps determine how much you would need to decorate and also help you make up your mind about how you want your wedding setup to look like. Picking a venue that is unique and unusual would not only make your wedding a memorable event for all in attendance, but it will make your special day even more special. Here are a few unique places to get married that people actually chose as their wedding venues.
1. Museums
Beautiful art museums are an obvious choice, but you can also look at the city museums, natural history museums, and air & space museums. This venue would not only save you money on decorations, but you can arrange tours or exhibits to take place during cocktail hour to add amazing entertainment. Your guests would definitely enjoy themselves if you would have historical figures or dinosaur skeletons as your decoration pieces.
2. Converted Building
Nowadays, it has become a trend to have parties such as weddings at buildings that were not made for that purpose such as old factories, aeroplane hangars, monasteries, and warehouses. Having a wedding in locations like these gives you a raw, empty space to decorate as you like. This mix of beautiful décor and flowers with the brick walls adds a charming aesthetic to your wedding.
3. National, City and State Parks
Public parks can be great venues for a wedding. The background in your marriage pictures would be amazing, and your wedding would not even need a theme since these parks bring all the charm. Whether you have an intimate and cosywedding or a huge party, it would work out great! You may have to look into getting permits, and there may be some limitations on food and drinks or sounds equipments too.
4. Conservatory and Botanical Gardens
If you want your wedding to have lots of flower decorations then you can have it in a horticulture centre or botanical garden. You would save loads of money on flowers and decorations, and these gardens even have greenhouses, fountains, and pretty flower beds to add charm.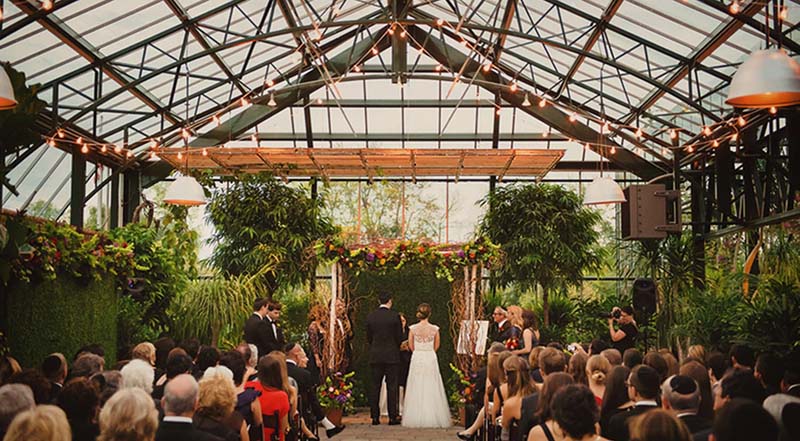 5. Historical Libraries
If you have a love of writing or reading, a gorgeous library is a perfect place to have your wedding. You will marry your partner in the middle of some of the best love stories and beautiful architecture. Your wedding would be the most romantic and sophisticated event with a backdrop such as this.
There are so much more unique and extraordinary places where you can have your wedding. You can choose a location based on your hobbies, passion, and interests. The point is to have a venue that makes a marriage great and compliments the couple's personalities. There are other unique ways to get married too which we will explore further.
Adventurous Ways to Get Married
For all the risk-takers out there who want to get that adrenaline rush in their wedding too, below are a few fun ways to get married.
Not everyone wants a casual and ordinary wedding, right? The following list shows some of the crazy ways how couples got married. These may seem like strange ways to get married to some people, but for the adventurers out there, these are perfect!
1. Hot Air Balloon
Exchanging vows up in the air with a sunset in the background and crisp wind in your hair seems very romantic. You can arrange to get married with guests looking up at you from down below, or just have it with you and the groom alone.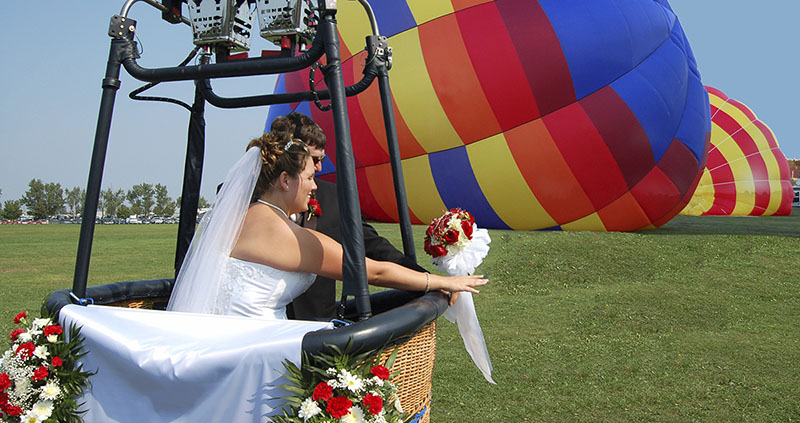 2. One of World's Tallest Hotels
The Burj Al Arab Jumeirah in Dubai is the world's third tallest hotel. They provide wedding services on their helipad at 700 feet high with the view of the city and the Arabian Gulf. This makes it one of the most unique wedding ideas ever!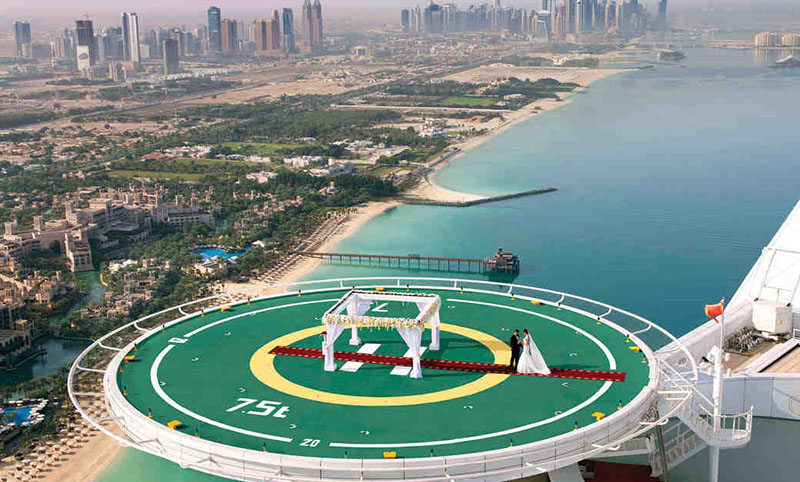 3. Inside a Volcanic Crater
For those who would like the rush of going down the crater of an inactive volcano, the Þríhnúkagigur Volcano in Iceland is a great wedding venue. You ride an open elevator 400 feet down into the volcano and after exchanging your vows, you can have a private dinner with magma chamber, as your background.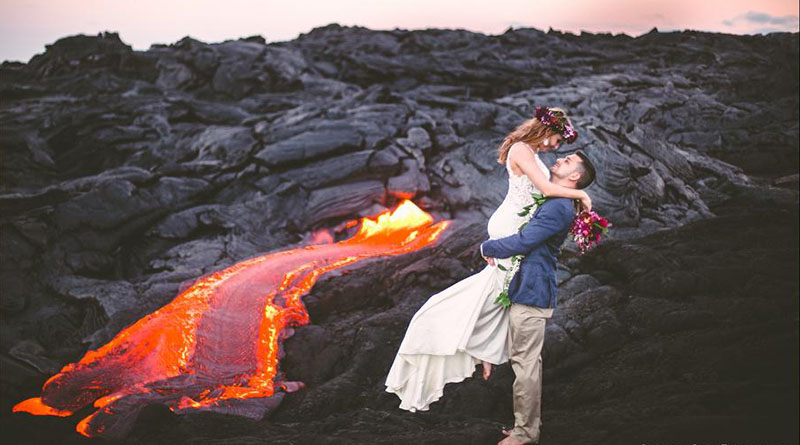 4. In an Aquarium
If you and your fiancé are certified scuba divers, then you can have your wedding at the Ruins Lagoon in Paradise Islands, Bahamas. The lagoon has around 20,000 fish and artefacts that had been placed there by inspiration of the fictional island Atlantis. After getting married, you get an hour to take pictures and videos. Your wedding album would include pictures of you swimming with the fishes, so cool!
5. The African Bush
If you do not mind a few unexpected guests crashing your wedding, then you can get married at the GondwanaGame Reserve. The guests might include giraffes, lions, elephants, antelopes, rhinos and cheetahs so this one is not for those with weak hearts. However, it would make some incredible and extraordinary wedding pictures.
Hopefully, with the list mentioned above of unique ways to get married, you have been inspired to have your own unusual and eccentric wedding. Unique weddings do not necessarily have to be totally crazy like getting married in a volcano. You can tone down the adventure yet still have a beautiful wedding that nobody could forget. And if you and your fiancé have quirky personalities, you can incorporate that into your ceremony by having unique traditions, decorations or venues. Making your day unique and memorable is the main idea that needs to be made widespread, so go ahead and plan a wedding however you like! As long as the couple is happy, does it really matter where or how you get married?