Providing nutritious food to the family is one of a woman's priorities priority by trying out the best healthy grilling recipes. Ensuring the quality of food has become a major concern these days. Since, most of the diseases are caused by eating unhealthy food, full of cholesterol and large amount of calories, they are harmful for a person's health.
A large consumption of oily and junk food has become part of our daily routines and is influencing our lifestyle to a large extent.This habit should be avoided to maximum level! It is a wide known fact that oily food contains a lot of cholesterol which increases the fat of the body.
This takes us nowhere except with having multiple health problems.
Why are the recipes for grilling healthier ?
The grilling recipes are healthier because neither there is any frying involved nor it has any greasy coating. It only contains the basic ingredients mixed up to make delicious and healthy food combinations.
Not only the essence of food is made healthier, but its presentation is also made fantastic since it is served with raw vegetables, tasty sauces and dips. The overall look of a grilled food is appealing and liked by everyone too.
Best Grilling Tips and Recipes:
Before preparing a grilled food, there should be some important points to be kept in mind which makes the food even more tempting and appealing.
The grilled cuisine must have a lot of vegetables nicely cut in equal shapes to be presented with.
The vegetables and fruits may include potatoes, tomatoes, onion, eggplant, pineapple etc.
Whenever you are setting the meat on the grill pan, make sure that you use the least possible amount of oil to cook meat. Olive Oil is the best to be used for grilling purposes since it contains very low fat and cholesterol as compared to the other cooking oils.
Marinating your meat for a long period of time is necessary. Since you are cooking your food on grill, it will get low flame.Therefore, you need to marinate your meat well before time to give it a minimum cooking time. You can marinate your meat in several sauces with marinating mixtures like soya sauce, lemon juice, chilli sauce, ketchup, herbs and spices.
Refrigeration of your marinated food is essential for at least 1-2 hours.
If you cut your meat in smaller pieces and then set it on the grill, cooking time will be reduced.
Turning the meat every now and then on the grill will cook your food evenly from all its sides and gives it a delicious taste in every bite.
Some of the Best Grill recipes:
To look on the best grilling recipe ideas, this read is what you need!
Some of the best grilling ideas for summers have been presented in this article!
1. Grilled Chicken with Mayonnaise Sauce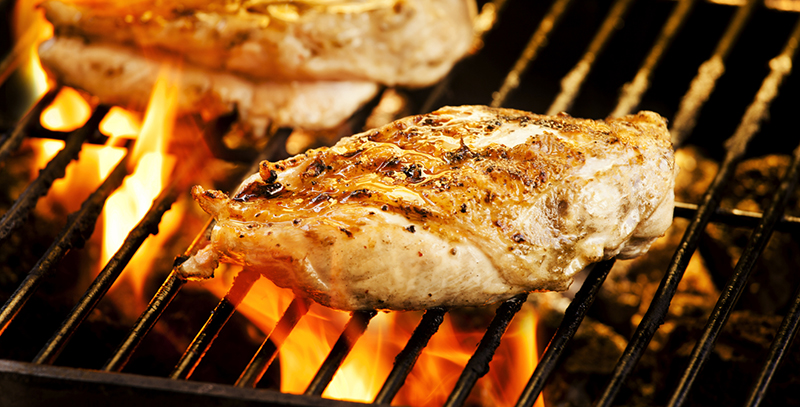 Ingredients:
Salt & Black Pepper- to taste
Method:
Take a chicken breast slab and marinate it with a pinch of salt, black pepper, Oregano, Green Chilies (finely cut).
Leave it marinated for a period of at least 2 hours.
Heat your grill pan and spray some oil on it.
Put the chicken breast slab on the pan and grill it for about 10 minutes from each side.
Check it with knife whether it has been nicely cooked from inside or not.
Switch off the heat and put the chicken in a serving plate.
Put some mayonnaise in a bowl and add a pinch of salt and black pepper into it.
Serve the grilled chicken with Mayonnaise sauce and enjoy!
2. Grilled Vegetables as a Salad Recipe
Ingredients:
Potatoes, Tomatoes and Capsicum- 1 each (finely cut in slices)
Salt and Black Pepper- to taste
Method:
Take some raw vegetables like potatoes, tomatoes and capsicum.
Cut them into fine slices.
Boil these vegetables for about 10 minutes and remove from the flame.
Add a pinch of salt, red chili powder, black pepper powder and oregano in the boiled vegetables and set aside for about 15 minutes.
Heat the grilling pan and add some oil into it.
Put the vegetables one by one on the grilling pan and give at least a couple of minutes to each vegetable to grill.
Serve these grilled vegetables with tomatoes and garlic sauce or Mayonnaise dip.
3. Bar B Q Fish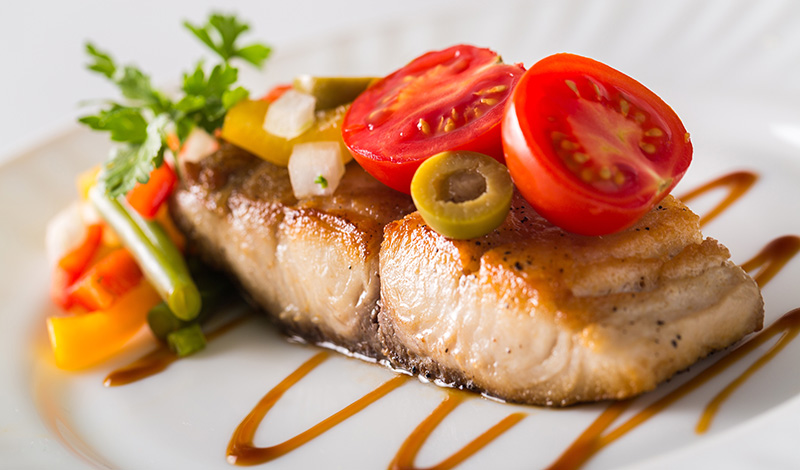 Ingredients:
Salt & Black Pepper- to taste
Method:
Take thick Fish Fillet, clean it well and dry it with a cloth.
Take Olive Oil and spread it thoroughly over the fish fillet.
Put it on the aluminum foil and layer it with onion and lemon slices on the top and sprinkle salt and black pepper along with fennel seeds.
Cover it with the aluminum foil and put it on the grill and cook it till it gets cooked evenly.
Tasty Barbeque Fish is ready to be served along with lemon slices and green fennel leaves.
4. Hot and yummy Grilled Trout
Ingredients:
Method:
Mix the lemon juice, sesame seeds, oil, parsley, hot sauce and salt.
Apply cuts on the fish with fork and roll the trout in this juicy mixture for coating and marinating purpose.
Leave it in refrigerator for at least 30 minutes making sure to turn it after 15 minutes.
Now take the fish out of this marinade, put it on the grill and brush it with the marinade kept in reserve.
Cook it for about 4-5 minutes from each side. Enjoy!