10 DIY ideas to revamp your porch in a budget!
Since porches are the gateway to your house, are you thinking about re-vamping it and turning it into something welcoming and cozy? But it also seems that you neither have the skills nor the budget to do so, right? Well, we have got you covered.
Here is a list of DIY porch decorating ideas that are sure to make your porch look magical and probably the fav chill-out place in your entire house. All of it while keeping your budget in mind!
Before we begin, here are a few quick tips to keep in mind, when looking to decorate your porch;
First and foremost, keep things organized. A haywire or clustered entrance is the worst that you can do to your porch.
When decorating, keep it as simple as possible. Overdoing the décor will steal the purpose of an elegantly designed gateway.
Keep in mind about the lightning. The better the lighting, the larger and better it looks.
Sitting is a must. Be it a small sitting for a couple or one that can seat a group of 5 or 6.
Keep in mind the unwanted, dust, snow, rain etc. and decorate accordingly.
That's about it,
Let the porch decorating ideas roll in! *drum rolls*
1. Swinging daybed:
Well, this one is surely the best and most favorite of porch decorating ideas.
Perfect for an evening nap in the hot summers, to chill-out with your fav one, or for sipping hot chocolate on a breezy night! I mean what's not to love about this easy to make, under the budget, DIY day bed? And to top it off, it SWINGS!
Though it does require a sturdy ceiling to hang to.All you need other than that are pallets, an old yet comfy mattress, hooks for hanging, a sturdy rope, your very own tool box and last but not the least a couple of hours to spare!
Here's where you can find the full fledge instructions, for this unique and certainly everyone's fav, DIY porch decoration.
2. A designated sitting area:
If a day bed or swing is not your style, go for a chic setting that may include either a sofa set, wooden patio chairs or chic and stylish benches made out of crates, which have been trending a lot lately and are a perfect porch decorating idea when you are on a budget.
If you have a spacious porch, you can do something like this, which is perfect if you love hosting family dinners and weekend parties.
Stack two pallets on each other and join them by passing nails or screws through them, forming a seat, while using 1 pallet, behind each seat, as a back rest.
Paint the whole thing black, as in the picture or go for colors such as brown and grays, whatever you think would sit well with the overall environment of the porch.
Place colored seating made out of old cushions or if budget allows, purchase sofa foam from here.
Pair with contrasting colors of cushion and there you have it, a perfect patio setting, enough to seat a group of more than 6!
Whereas if you are looking for a small sitting, no more than 2 or 3 people, then this one is fairly perfect.
3. Work on the flooring:
When looking to decorate front porch, don't forget to play with the floor. You will be surprised to see what wonders the floor alone can create. From laying out a rug, placing detachable tiles, wooden panels to vinyl sheets; the floor has the distinguishable ability to carry everything and anything perfectly.
But make sure, before you choose a flooring option, keep in mind that it should be easily cleanable as porches are the one thing that gets dirty, the most. Also make sure to choose a flooring that is not affected by things such as rain, snow, dust and the likes.
See how just a patterned rug alone has given, the otherwise simply styled, patio an upgrade!
These interlocking tiles work best when you are looking to designate an area for a specific purpose!
Looks like you have invested in some good quality Spanish tiles, but only you know it is a Vinyl sheet flooring. Affordable and so elegant!
4. Make sure to have good lighting.
When we talk about lightning, we mean the porch should be well lit and not shady. Make sure to have enough sunlight reaching in at daytime while having enough lamps and bulbs at night.
Here are a couple of porch decorating ideas that are 2 in 1. That means, they work amazingly well as decorative pieces, during the day, while providing enough light at night.
These modern and trendy, yet easy to make glow balls are a must try.
Here's where you can find the simplest of tutorials to get this done, with surprisingly, the least bit of work.
Or if you are looking to go old-school with candle lighting yet want to make your porch look chic, these mason jar candles are the best porch decorating idea. Easy to make without over doing the budget, this fancy light source is worth every penny!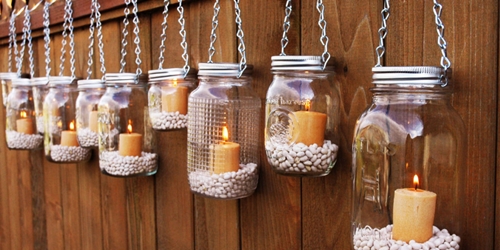 And did we mention they are super easy to make? Here's how!
5. Plantation is a must!
Plants give your porches a naturally welcoming look but who said they have to always be in pots, lined on a shelf?
Use this kickass plant décor idea in porch which doubles as a partition between you and your neighbor's porch.
Here's a detailed tutorial.
If hanging plants seem too much, go for something as unique as this cinder block plantation, to give your porch a unique edge!
Here's  a quick tutorial.
While if you aren't a 'plants' person, here's one idea that doesn't even require real plants, yet gives your porch a fresh and natural feel!
Here's how you too can make one for yourself.
6. Accessories to add extra bling:
When it comes to accessorizing porches, we would suggest you to keep it simple, since they are an entrance, a gaudy look would give an unwelcoming feel. To make it feel comfortable and welcoming, go for light accessories such as:
Here's how you can make one!
A decorative sign like this could be used to showcase your house number.
A welcoming sign that suggests your guests to be themselves is also a pleaser!
Or a game table as above works best as both conversation striker and also helps keep your guests busy while you fix a quick snack for them!
That's about it for today.
Try these DIYs now and share with us, to win a chance to be featured on our portal!