Home is where the kitchen is so user friendly, that there's food in every corner…..
But!
Mommy wouldn't like that now, would she?
For every woman, having her own house, is like a dream come true.
However! For me, a dream come true kind of a situation, is getting married to a man who doesn't let me go to the kitchen.
But that's not quite the point of this article….Never mind!
Moving on! Most women have planed the interior of their house since the age of 12, although perhaps at that time, they are obviously thinking of a Barbie themed bedroom and a Cinderella themed lounge.
However! When you reach an age, where you can actually afford your own house, thousands of ideas are running through your head and, you just can't seem to choose 1!
Here are a few tricks and tips that may come in handy, for the most important part of the house. NO, not the washroom!
THE KITCHEN!
10 Smart Tips to Organize your Kitchen
1. Lazy Susan: Not your next door neighbour!
This is a revolving stand/tray that you can use to put sticky items or products that have high chances of getting spilled and cause a mess. Such stands are easy to clean, foolproof (for husbands and other children in the house) and very stylish!
---
2. Pegs: That's misinterpretation number 2!
Pegs are holders that you can either attach to the walls of your kitchen, or simply can be put on any resting place. Pegs are the most efficient way, to organize every important item, you wouldn't want to stuff inside the cabinets, and face daily hassle to find!
---
3. Use cabinets systematically
Cabinets are a bliss, which most of us fail to realize. We stuff all the unnecessary commodities in the cabinets, with no order what so ever. This doesn't just complicate our daily lives, but also creates stress when there are guests in the house!
Use cabinets to separate "party goods" from "daily goods"
---
4. Cooking zone
Depute a cooking zone by placing all the needful things while cooking that you would need, such as oil, spoons, salt and all the other spices!
---
5. Manage spacing
Where to locate what is the most salient feature for a kitchen? To make your life easier, you must pay close attention to where all paraphernalia is placed. For example; having the sink close to the dish washer and all the cabinets with ingredients close to the stove.
---
6. Shelf organizers
By installing shelf organizers (if the house doesn't already come with one), it becomes immensely convenient to get your hands on the frequently used objects.
---
7. Wall hanging frames
This is my personal favourite!
For most women and surprisingly many men, kitchen is where they spend most of their time of the day! With such habits, you must have a kitchen that's creative as well, homely and distinctly colourful!
Hang hilarious quotes and loving phrases on the walls of your kitchen to give your cookhouse a positive look!
---
8. Over the sink shelf
 In most homes, dish washing material is either kept on the counters or placed inside the cabinets. Either way, it looks untidy and creates a lot of clutter! To avoid this, expand your counter space by lodging an extra shelf, typically designed to hold every sink related article.
---
9. Black or white boards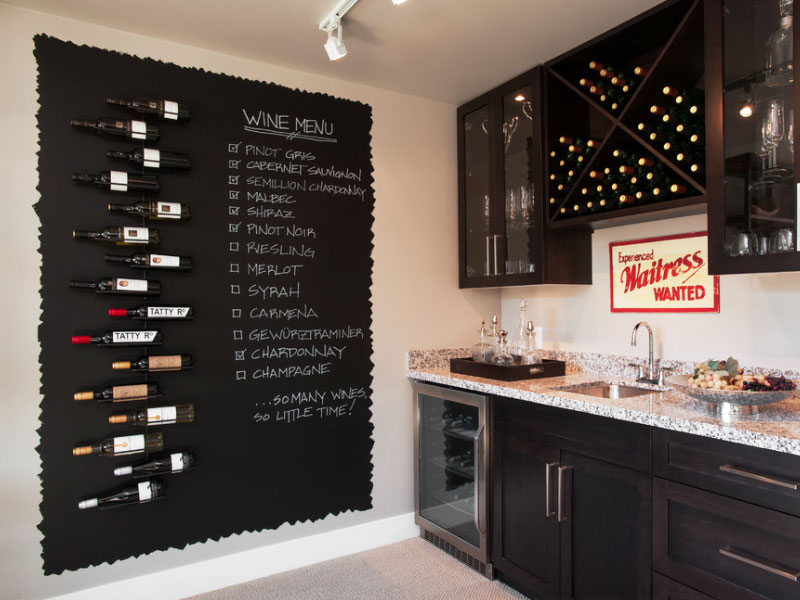 Another superbly interesting way to enhance the look of your kitchen is by either hanging, or placing boards. These boards can have the daily menu, or a recipe you left behind for your daughter, because her friends were coming over and they wanted to cook/bake.
It can also be a spectacular way to remind your husband, of the grocery he has to buy on his way back home.
---
10. Lights: Saving best for the last!
The most important piece of decoration, not just for the kitchen, but for the entire home;  lights!
Be sure to use fancy, as well as favourable lights. Keep in mind the fact that, many of you have weak eye sights and certain lights can make it worse!
P.s: Also keep in mind that salt and sugar are too similar to differentiate in bad lighting!
No matter what you do to your kitchen, be sure to make it as loving as possible so that
Everyone's automatically attracted to cook for themselves!