In this technologically advanced era, when we talk about rejuvenating skin, most of us would think about getting expensive treatments, using all sorts of advanced gadgets and what not!
This shows how complicated, with our own two hands, have we made things!
Do you know a far better option for revitalizing skin, lies right in our hands? But sadly we are blinded by technology.
Want to know what secret ingredient beholds the power of providing us glowing, baby like skin once again?
Mother Nature!
Yup, you heard that right!
From fruits to cocoa beans, there are hundreds of little ingredients that Mother Nature has blessed us with. They can be used to make customizable and fool proof beauty masks. These natural ingredients not only help retain the natural glow but gifts us. softer than cotton and smoother than silk, skin.
Ingredients such as honey, yogurt, lemon, and oatmeal are just a few examples of DIY facial staples. All the other fruits and vegetables, especially those filled with nutrients such as vitamin C, Vitamin B and collagen, help tighten and freshen skin like no other gadget or chemical at the salon could!
It's been more than a year and these homemade face masks are doing wonders to my skin.
So here are 4 of the best facial masks that you will instantly fall in love with because the results are just astounding!
1. First up, Breakout resilient DIY face mask
This DIY facial mask recipe is best for those who have to fight acne and pimples, almost every day!
As the name suggests, this homemade facial mask helps fight pimples and acne.
As you may know, breakouts are more common amongst people with excessively oily skin. If not taken care of, the oil clogs into your pores along with the dead skin, making it suitable for bacterial growth. This is what causes frequent acne and pimples, which if you have had any, you would know are downright painful and not a pleasant sight to watch.
This facial helps get rid of the dead skin cell, thus rendering breakouts.
Here's what you will need:
Mash a ripe banana and add it in honey and lemon juice. Mix well until it forms a nice and thick paste.
Apply onto your face and let it sit for at least 15 mins after which you can remove it with the help of a warm washcloth.
2.  Next in line is a Coffee & Cocoa exfoliator
From ground coffee, cocoa powder, milk to honey, this DIY facial scrub has it all!
If you are a coffee lover like me, this homemade facial mask will not only give you a chance to enjoy your beautifully-smelling exfoliated skin but will also give you, a major craving for a mug of freshly brewed espresso with a hint of cocoa!
As you may know, coffee is anti-inflammatory in nature, thus helps reduce redness, while its texture helps exfoliate the dead skin. That's not all, amounts of caffeine present in coffee also help reduce the appearance of dark circles from under your eye.
Cocoa works to fight acne with the amount of Sulphur and anti-oxidants present in it. Also milk helps hydrate and soothe skin, thanks to all the natural enzymes present in it!
Here's what you will need for this natural facial mask:
Half a cup cocoa powder, unsweetened
1 tbsp. fresh lemon juice
Mix all of the ingredients together to form a paste. The paste may not be smooth and granules of coffee may be visible. That's alright, those granules will help exfoliate your skin!
Apply on your face and massage for a couple of minutes; let it sit for a good 20 minutes.
Wash with warm water and pat dry your skin. If it feels dry, apply a small amount of oil-free moisturizer.
That's about it!
3. Next up, Dryness eradicator
Well, this homemade facial mask is a life saver, trust me!
As much as acne-prone, oily skins are a problem, so are dry and scaly skins. They make our appearance dull and aged. There may be several causes behind dry skin; some may be born with it, some may have it due to any medical condition, while some may have due to the weather. Whatever the case, it needs to be worked on, immediately!
To avoid the possibility of having a medical reasoning behind the dry façade, answer a couple questions at Symptoms Checker and you'll know!
After years of searching and testing a variety of high-end products as well as DIY facials, this one, in particular, made my skin look and feel baby soft and very well hydrated.
Here's what you will need:
Mash the avocado and mix into it in egg white, honey, oatmeal and lemon juice. Mix until it forms a thick, smooth paste.
Apply generously over your face and let it work its magic for around 20 minutes. Wash your face with warm water and viola silky, smooth skin in no time!
The monosaturated fats and the rich amounts of vitamin B in avocado work well to hydrate the skin and protect it from further damage!
For best and quick results, use it twice a week!
4. Lastly, Age protecting mask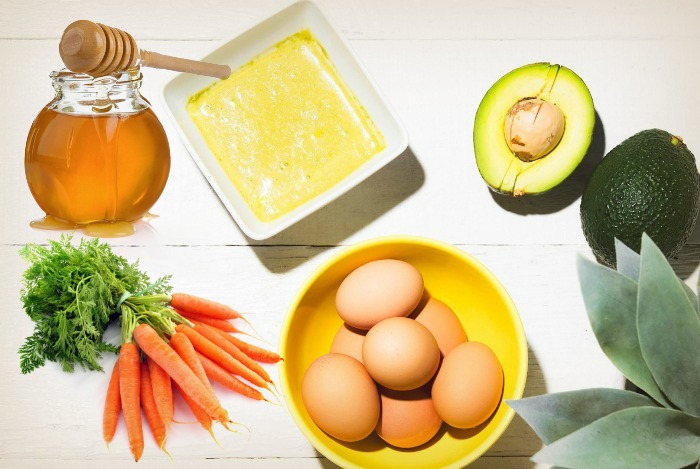 Don't we all hate the sagged skin and wrinkled eyes? Making our skin look nutrition-less and old!
Wrinkles engrave into our skin as we age but often they make an entry before time. There may be many reasons behind it.
Dermatologists list smoking, consumption of too much sugar, exposure to Sun and genes as some of the most evident cause of wrinkles.
This age protecting mask consists of three essential ingredients: avocado, carrots, and cream.
The amounts of protein in cream, beta carotene in carrots, along with the vitamins and anti-oxidants in avocado, help build up elasticity by promoting the production of collagen leading to an almost wrinkle-free skin. This homemade facial mask also tones up and smoothens skin.
Here's what you will require:
Put all the ingredients in a bowl and mix well until it forms a smooth paste. Apply on your face generously.
Rinse off with warm water.
Results may not be instant but trust me, this mask is worth all the effort and time