Gone are the days when tattoo sleeve ideas were only a "man's thing".
Guys better watch out!
The "modern" age women have the power to climb Everest with a baby in one hand and a broom in another; and she'd still be slaying that body like a mama!
Also! Now that we know guys like joker prefer it a bit cuckoo in the head Harley Quin style, we are ready to unleash!
So watch out a bit more…
When God was making women, he added a bit elegance, tons of beauty, lots of hormones, little bit of crankiness LOL JK,  LOADS of cranky, and also a kg full of fierce.
But then, the society happened. And the fierce was tied to the traditional "act like a woman" ropes.
Well, well, well, it's time to un-tie!
I personally think tattoo sleeves convey power, wrapped in confidence and grace, for women.
I'd get it, if needles didn't scare the life out of me…
Anyways!
5 Awesome Tattoo Sleeve Designs and Ideas!
1. Preserve the Love!
Let's face it!
Tattoo……. is a permanent decision!
A little birdie-do on the ankle can go wrong, but an entire arm?
Not so much!
For such a risk, why not go for a choice that can never go wrong? Like a road down the memory lane through your arm into your childhood's best memories with your mother?
It could be some other loved one as well, but for idea sake-why not preserve the love on the arm?
---
2. Travel History!
Are you a travel freak? Cause I sure am!
Perhaps travel cannot prevent bigotry, but by demonstrating that all peoples cry, laugh, eat, worry, and die, it can introduce the idea that if we try and understand each other, we may even become friends  -Maya Angelou
How about a sleeve full of the places you want to travel, have travelled or are about travel?
From where I see it, it could be pretty darn motivating!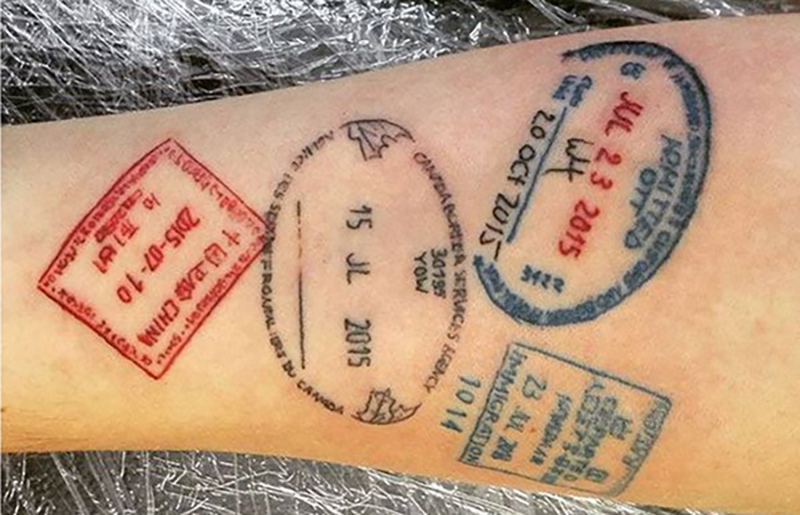 ---
3. Cherry Blossom Tattoo!
Cherry blossom is a Japanese sign which symbolizes Japanese spirit. These flowers bloom once in a year and the Japanese calendar is even prepared in the start of the season of cherry blossom.
Cherry blossom charmed the early Japanese when Samurai used its pictures in their poetry and art. They assumed that life was short and one must relish the life to its fullest. Besides, life has the integrity just as the flower, cherry blossom. Therefore, this cherry flower tattoo becomes a genuine and considerable part of the full sleeve tattoo design.
---
4. Art Attack!
For me, tattoos are all about meaningful ideas!
I don't want to be a 70 year old granny, with a permanent duck on the corner of her left boob just because she wanted a tattoo there.
I want a story that I can tell my grand kids, about when they touch my inked skin asking "what's this?"
Anything can be of meaning to you; your family, your girlfriend, your sun glasses, coffee!
But for many people…it's art.
So if you're one of them, maybe you could have your favourite artist's most favourite painting tattooed to you forever, or any other work of art that you like.
How about a painting that you saw and loved but wished one very important detail could be fixed? Fix it on your arm.
Remember that painting you couldn't afford? Well now you can. Tattoos don't cost a fortune.
Saving best for last, what about your own painting that you're too nervous to show the world?
Own it!
---
5. Let's Keep it Natural!
The most common type of tattoos, whether big or small, is that, found in nature.
Birds, flowers, whales, sharks, leaves and what not! Nature is beyond our imagination. It's wild and beautiful.
So if you want to keep it simple as well as alluring. This one's your catch!
You could be a little creative and mix it up with any of the tattoo sleeve ideas above. Like an art piece with a touch of nature or travelling with whales!
Anything is possible, when creativity potions with imagination! So it's better to get some Meaningful Tattoo Ideas for you.
Whatever you choose to have on your arm, or any other part of your body for that matter; Let me tell you, it will hurt, so make it count!