If you have ever moved houses or thrown a housewarming party, you would know the range of gifts that come flowing in. Everything from wall hangings, table décor, and floor mats to the much-loved cards and flower bouquets. As much as the host loves and appreciates the gesture, it is rare that they put all of the gifts to use.
So we decided why not let you in on a secret, which involves giving the coolest gifts to a newly shifted neighbor or friend that they can use right away!
So let's get started!
1. A heavenly combo of Wine and Chocolate, but with a twist
Who can deny the power of this spectacular combo, especially when it is wrapped with utmost love and care? We sure can't!
This DIY Housewarming gift requires only 4 things, which can be grabbed from the nearest mart:
– A bottle of their favorite wine
– A box of their favorite chocolates
– Glue (or if in a hurry Double-sided tape)
– A classy bow ribbon
Method:
Step 1: Take the bottle of wine and put glue over it, or double sided tape if you are running late, as the glue would require time to dry.
Step 2: Carefully stick the candies or chocolates according to your liking on the bottle, in a manner that it completely covers the bottle of wine.
Step 3: Last but not the least, tie the bow ribbon around the chocolate covered bottle, to give it a glamorous yet heart-warming touch. You are ready to rock the housewarming party!
2. Teacups + candles = Vintage Candle-cups
Teacups and candles are both great options when it comes to getting gifts for someone who has just shifted a house. But these are also the most common and predictable gifts. While according to our guide, if it is predictable it won't win you the 'Best Guest in Town' title.
So we came up with an amazing idea to try out both of them, with a slight twist. Here's how:
Following are the things you will be needing:
Method:
To begin with, melt the wax over a double boiler.
While the wax is melting, place the teacups on a tray to avoid creating a mess.
With the help of two pencils and two rubber bands, hold in place the candle wick, over each cup.
Once the wax has melted, mix in a few drops of scented oil. I personally love lavender oil. Mint also works brilliantly.
Once scented, pour the wax into the teacups. Let cool for at least 6 hours.
Set in a beautiful tray or a box, tie a cute bow around it and there you have it; the most beautiful DIY housewarming gift, Vintage Candle-cups.
3. Ice-cream Madness in a Jar!
I scream, you scream, we all scream for ICE-CREAM!
And we all scream louder when it comes to having our own, personal ice-cream assembling station! Everyone, from a 3-year-old kid to a 50-year-old man will enjoy every ounce or  'scoop' of this delicious gift!
Here's what you'll need:
– A huge sized glass jar
– 3 small sized jars for dry toppings
– An ice-cream scooper
– A box of waffle cones
– 2 bottles of syrup for topping
– Caramel/strawberry
– Chocolate (because chocolate is constant!)
– 3 different sorts of dry toppings
– Chopped nuts
– Sprinkles
– Chocolate chips
Stuff everything into the jar, tie a big bow around the jar and Viola, there you have it, your ticket to earning the 'Best Guest in Town' title!
* We wouldn't suggest putting in a tub of ice-cream in the jar, as it will melt. But feel free to grab it on your way to their house and hand them over along with the jar. Otherwise put around a beautifully written tag, along with this bow, saying "All you need is an ice-cream tub to Enjoy!"
4. Ultra-fresh, DIY lemonade pitcher
Since decades, lemonades have been working their best to provide us with that zing of energy and refreshment. By the way, they are much needed while moving houses! So this is best for an early housewarming present.
Yes, we did our best to make this one fancy too.
Here's what you need to buy:
– Mint stem
– A glass pitcher
– A wooden ladle
– 7 to 8 big sized lemons
– Half a cup sugar
Below recipe has to be followed:
Empty the provided packet of sugar into a pot along with ½ a cup of water and boil until completely dissolved.
Let it cool. Also add a few slices of lemons while the syrup cools to attain a nicely scented, infused syrup.
Meanwhile, in a glass jar, squeeze the juice out of the provided lemons.
Add mint leaves to it along with 3 cups of water. Mix.
Ultra-fresh lemonade ready to be served over ice!
To bring together this DIY Housewarming gift follow the given steps:
Add lemons into the glass jar, along with a zip-lock bag filled with half a cup of sugar and the recipe card.
Add to the package a stem of fresh mint leaves and a wooden ladle, by tying both together and attaching to the handle of the pitcher. There you have it, the ultra-fresh, ultra-refreshing DIY Lemonade pitcher.
5. Tried and tested recipe binder
This one here is going to blow away their mind, especially if they are new into the house as well as the kitchen!
As moving doesn't always mean shifting from one cozy place to another, sometimes it includes a whole lot of other responsibilities. Why not give them a helping hand and ease their cooking responsibility with our tried and tested recipe binder.
Well, many may ask why go through the hassle of composing one, when you can buy a variety of cookbook from any newsstand or book stand?
Well, this binder will include all YOUR recipes, which you have personally tried and tested. Those recipes which have been a hit in your household, making it easier for your friend to ace in the kitchen. To take things up by a notch, you could also include your old, secret family recipes as well.
Here's what you'll need, to get this DIY housewarming gift idea rolling:
That's about it.
Make sure you have at least 3 recipes in each category i.e. Breakfast, Lunch, Dinner, and Snacks. Also, don't forget to add loads of recipes for dessert.
You can either write or print the recipes, it can be complete upon your choice.
Place them in the binder following a specific order.
Decorate the binder and done!
Wait for them to fall in love with the gift and thank you every time they nail a meal time with your given recipes.
6. QR code for Wi-Fi
This one here is for one of those tech-savvy friends or neighbors! WOW, with this creative gift, you are sure to win the Best Guest in Town title, without a doubt!
Here's something you might want to hear:
It does not require any rocket science.
Heard us right, all you need are these few things:
– A laptop or PC with a working internet connection
– The friend's Wi-Fi password
– A printer, or someplace where you can get the code printed
– A frame (wooden or acrylic)
Here's what you need to do:
From the list of Data Type, select 'Plain Text'.
Visit QRStuff.com.
Type the password and select whichever color you want.
The website will then itself generate the QR code, which you may check and confirm.
Print it out, or transfer it to a device and get it printed from the nearest Photostat.
Frame the printout, tie a beautiful ribbon and let it spread the joy.
7. We call it Jar-O-Soup
It's time to make the host drool, with this one!
Just like our DIY Lemonade pitcher, this one here is a jar of ready to cook soup!
All you need is:
– A glass mason jar that can fit all of the below-mentioned ingredients (around ¾ liter):
– A cup of yellow lentils
– A cup of red lentils
– Half a dozen sundried tomatoes
– A couple bay leaves
– A medium sized dried chile pepper
– 1 and a half tsp. Curry powder (in a plastic bag)
– 2 tsp. Turmeric powder
Place all of these into a jar, by putting in half a cup of yellow lentils first, followed by half a cup of red lentils, then yellow again, then red again. Top with bay leaves, chile pepper, curry powder, and turmeric. And there you have it!
Don't forget to put a ribbon around!
8. DIY engraved wooden utensils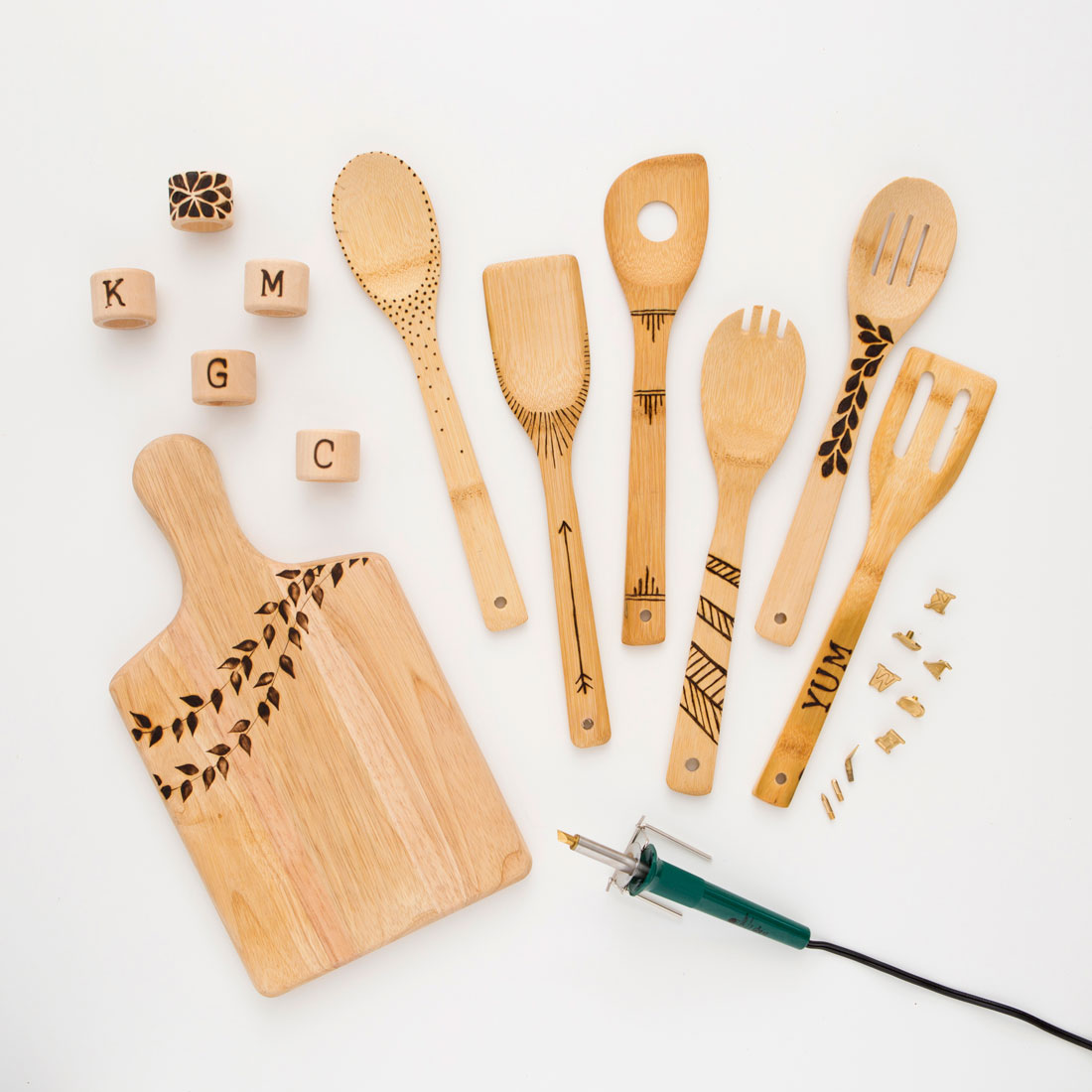 Utensils are great to gift as a housewarming present. But we have derived an idea that can elevate the gesture of giving utensils. It may not be the simplest of ideas, but it is worth every bit.
How about engraving the utensils with something special? The new house's address, the date they moved in, their initials or anything as simple as a personalized wish.
You can get this done from a few wood-art shops, but you could do this all at home too.
Here's what you will need:
That's all.
Gather ideas of what you want to illustrate on the utensils and with the help of the wood burning pen, get going!