We all have a smartphone nowadays, and the new trend is to customise your own phone case. Phones have become an extension of our hands, and we barely go anywhere without them. The biggest trend is to make everything exclusive and unique to you. That includes custom phone skins. People get pretty, unique, and creative designs to show off their personality or the things they like. It is a cute way of showing everyone what you are like and what kind of person you are.
How to Customise Your Phone Case
If you want a custom case for your phone too then, you can do it in multiple ways. You can go to an online store that lets you design your own phone case cheap and deliver it right to your doorstep. You can even look for stores that customise phone case and gives them the design you want in your case. There are online stores with a phone case creator tool that helps you create custom phone cases and develop them. You can try to customise your phone case at home too. It is simple and only requires a few tools.
1. Nautical Case:
Get a vinyl decal of an anchor and a clear case. You can print out a cute print to go along with the design or just stick the anchor decal on its own on the clear phone case.
2. Studded Case:
If you love studs and like it to be on everything you own, then you will love this design. You can get studs in one or more colour and glue them on a clear phone case. It is not only edgy, but it also looks cool.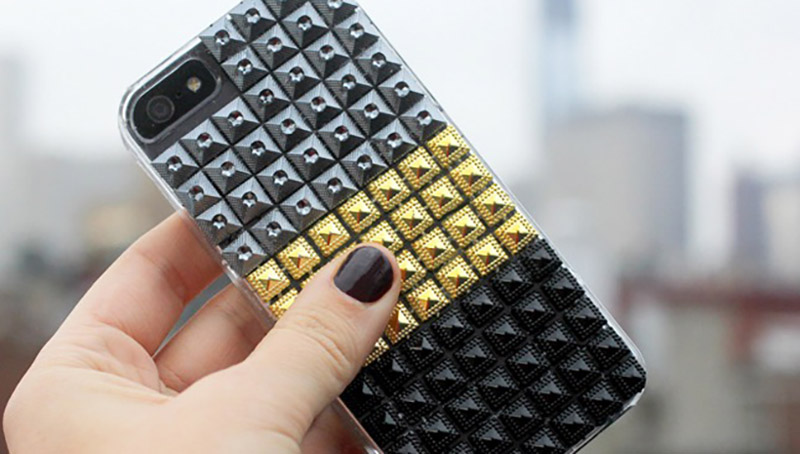 3. Collage Case:
You can get some cut-outs of beautiful pictures from a magazine and stick them on a clear phone case in a photo collage style. It looks artistic and not at all like something made at home.
4. Geometric Leather Case:
This is one of the easy DIY leather craft ideas that require little effort and look great in the end. You can cut out geometric shapes from leather of any colour and stick it on a clear phone case. The final result will look nice and give your case more dimensions.
5. Glitz Cases:
Stick on some glitter or tinsel with Mod Podge on a clear case to get a glittery and glamorous effect. You do not even need a particular design to create this look, you can just stick it on randomly, and it would turn out looking great.
6. Map Case:
If you love to travel then you can grab the map of your favourite place or the place where you grew up, and stick it on a clear phone case. This idea is unique and looks cool. People would automatically think you are a traveller and admire your fun phone case.
Make Your Own Phone Case Cheap
Many new online stores let you customise your own phone case, but most of the time they are a bit costly or are not even available for your phone type. Most stores have inflated prices for even the simplest design, and if you want custom cases, then they charge extra which is a bit ridiculous and unnecessary. You can find some stores that provide discounts, but that is rare. If you want free custom phone cases then you only need a clear phone case which you can get very cheap, and a design template that you want in your case.
1. Ladybugs:
Get black and red sharpies to draw little ladybugs on the case directly. Make them look like they are trying to crawl up your phone to make it look fun and creative. It is cute and easy, requiring no money to be spent.
2. Tattoo:
Get a tattoo of any animal or thing to stick on either a clear case or a solid colour case. Seal the tattoo with a spray and you are done. It looks neat and like you got it from one of the expensive online stores.
3. Marble:
The marble design is in vogue, and it looks lovely. You can use a gel pen to create a marble effect on a white case. It saves you the extra money and looks professional.
4. Paint:
Use colour to create different and creative effects on a paper and then stick it inside a clear case. It looks artsy and lets you show off your artistic skills. You can create a paint splatter or special designs and shapes.
5. Washi Tape:
Washi tape can make anything look beautiful. Get some washi tape in different colours and designs and stick them in a clear case in patterns. The clean lines look pretty, and you did not even have to waste a lot of money.
6. Tie n Dye:
If you want a trippy tie n dye pattern on your phone, then you can use nail polish. Put drops of different colours in different positions and then press a parchment paper on it to create the tie n dye effect.
7. Food:
If you love food and want it to be shown off on your phone then you can print out a food design like doughnuts and stick it on a clear case or solid colour case. The design is neat and straightforward without needing any money. Just make sure you do not eat your phone when you get hungry.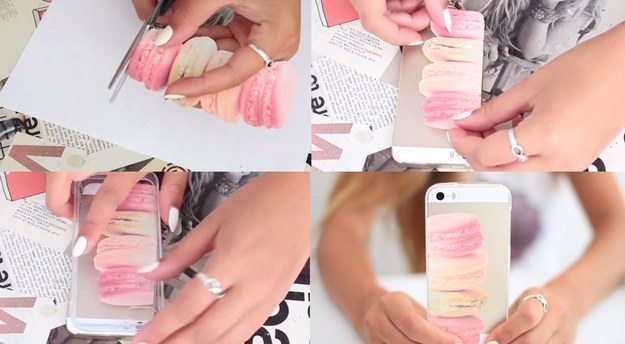 8. Design templates:
You can print out different templates of designs you like or pictures you like and stick them in a clear case. This way you get the satisfaction of having whatever image you want on your case without spending too much money.
9. Flowers:
If you love flowers and everything floral then what better than to have them on your phone case too? You can both use fabric or real book-pressed flowers and stick them in a clear case to create a cute flower arrangement that looks creative and beautiful.
10. Pearls:
If you are materialistic and proud then rock some pearls on your phone by sticking on some costume pearls on a clear phone case. It may be bulky and heavy but does look pretty good. If it goes with your style then why not do something so over-the-top.
Monogrammed Phone Cases
One of the most famous custom phone case designs is monogrammed cases. Many people want to customise their things by monogramming them with their initials. Many online stores sell custom monogrammed phone cases. They have them in cute and stylish designs, but their prices are a bit much. Not every average person can spend so much on just a phone case. You can look at tutorials online to create your own custom monogrammed phone case. It will only require a clear phone case, some arts and crafts tools and the design you want. It is a neat idea and turns out looking fabulous.
This article focused on how to customise your own phone case. We listed a few ideas on how to make a stylish phone case for your phone, which we hope will inspire you to get creative yourself and come up with other unique ideas. You can use washi tape, colourful scrapbook paper, studs, gems, flowers, and leather like when you make a tech organiser bag. There are many other materials you can use, or you can get resourceful and recycle some of the stuff lying around the house. You just have to go with a design that speaks to you and your personality. It can either be simple and clean or intense and edgy. You should let your personality shine through and go with what you like. You can pick out clever designs or something deep and meaningful. You can show off your skills whether it is painting, drawing, sketching, decorating, etc. The best part is that if you get tired of the case in a few days, you can change it and make something new because there was no money spent or extra effort that went into it.